Hosted Applications
A hosted application, also known as Internet-based application or web-based application is a white labeled application software that resides on our powerful servers which can be accessed through the Internet. Unlike traditional softwares that are installed on a local server or on individual computers at client premises, hosted applications are stored in a remote web server. We have a set of ready-made applications ranging from Customer Relations Management to a complete Accounting package hosted on our highly secured servers that you can use for your requirements, by paying a nominal monthly or annual fee. You will be given a username and password to use the application and to access your data by any number of users worldwide. You can request modifications in these quality web-based applications and can fully customise the application's look and feel, including its access URL to suit your needs. And you can even use our powerful APIs in your websites so that your customers never know where this program resides. We use independent password-protected databases for each customers, which resides safely and securely in our servers with full privacy. You can create your own backup policies to backup the data whenever you wish.
Why Essence Hosted Applications?
Hosted Applications are nothing new. There are lots of SaaS vendors providing ready-made applications. But with most of them, you have no control over the data. And this is the major highlighted disadvantage of hosted applications. For example, you start using a hosted application by paying a nominal monthly rent, and after 1 or 2 years, the Solution Provider increases the rate so high that you cannot afford. In these situations, you cannot move to a more economical provider, as your data is with the existing provider, which they won't provide. This situation is called Vendor lock-in. With Essence Computing Hosted Applications, you will never face this issue. This is because we maintain separate databases for each customer using the application. See the illustration below: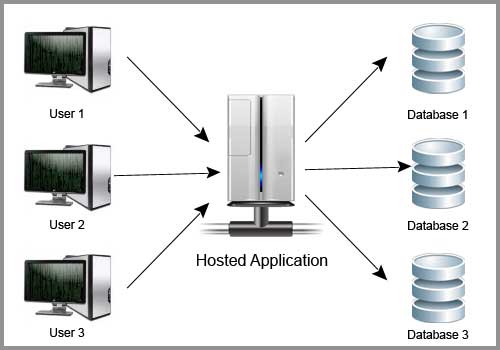 In the above illustration, when first user logs in to the hosted application, only his / her particular database can be accessed. The login is mapped to the first database in the example, and the user cannot access the other database in any way. Moreover, we provide entire database control to the client on request, so that they can backup the database as they wish, or move on to another vendor, if they are not happy with our service.